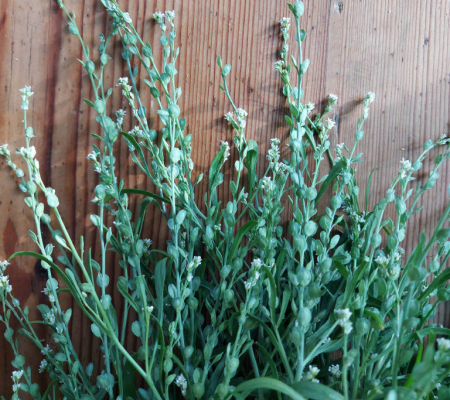 Ornamental Cress, organic seeds
---
Information
---
| | |
| --- | --- |
| Product number: | 642 |
| Scientific name: | Lepidium sativum |
| Botanic family: | The Mustard Family - Brassicaceae |
| Organic: | Yes |
| Days to maturity: | 45 |
| Lifespan: | Annual |
| F1 Hybrid: | No |
| New variety: | Yes |
| Sowing time: | May-July |
| Sowing depth: | 1 cm |
| Germination time: | 2-4 days |
| Plant spacing: | 10–15 cm |
| Row spacing: | 30 cm |
| Height: | 40 cm |
| Plant location: | sun |
| Harvest/blooming: | Juni-September |
| Edible seeds: | Yes |
| Seeds/g: | 450 seeds |
| Other: | så kontinuerligt |
| Heirloom variety: | No |
---
Cultivation advice
Sowing
Sow 1 cm deep and thin to a distance of 10-15 cm. So continuously between May and July to always have access to a beautiful base for your bouquets. For the early sowers pre-cultivate indoors, frost-sensitive.
Spacing
Keep a planting distance of 10-15 cm between the plants and 30 cm between the rows.
Harvest
Harvest continuously and have as a base and filling in your bouquets. The whole plant is edible, including the decorative unripe seed capsules.
Seed
450 seeds / g.
One portion contains 5000 seeds.