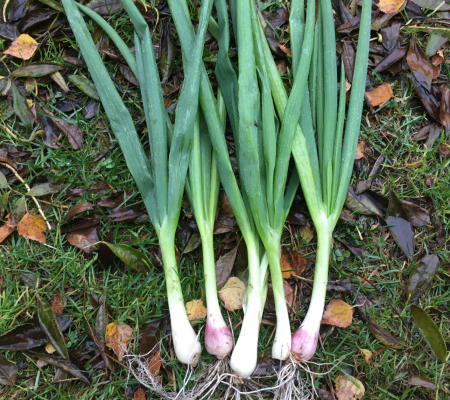 ---
Information
Cosmo is a winter hardy, perennial spring onion which can be harvested from early spring until late autumn. Every onion splits into several stalks – save some in the ground for next year's harvest. Cosmo can be up to 40 cm high and has an aromatic taste of chives. It temporarily replaces Idunn, which we currently cannot offer because of import restrictions due to the pandemic.
---
| | |
| --- | --- |
| Product number: | 6360 |
| Scientific name: | Allium fistulosum |
| Botanic family: | The Onion Family - Alliaceae |
| Organic: | Yes |
| Lifespan: | Perennial |
| F1 Hybrid: | No |
| New variety: | Yes |
| Height: | Up to 40 cm. |
| Heirloom variety: | No |
---
Cultivation advice
Sowing
Sow the seeds one inch deep, indoors or in a hotbed, singly or in groups, in March-April if you want large and early seedlings. Cut the leaves to about 6 cm during the early cultivation. The plants will be more stable then. Plant them out when all risk of frost is over.
For direct sowing in the open ground, which is predominant, sow the seeds in batches, once the frost has left the soil and it has dried up a bit, onwards until mid-July. It is also possible to sow in the autumn, in September, to allow the seedlings to overwinter for an early crop the following year. Moisture is the greatest threat.
Spacing
Keep 2-5 cm between the plants in rows and 20-40 cm between the rows. If sown in groups, there should be 15-20 cm between them. Be sure to remove weeds; onions do not like competition. Burning with a gas flame just before the onion sprouts is an easy way to get rid of early weeds.
Harvest
Scallions, which are quite resistant to frost, can be harvested well into late autumn and are among the first to be harvested in spring. To harvest, the whole scallop is gently pulled up as soon as it reaches edible size.
The earliest sown and planted Spring Onions can almost get as thick as leeks and can be stored in the same way, but they actually keep best if they are allowed to remain in the soil and it is really only in the winter when they freeze to the ground, that you can not enjoy these delicacies.
Seed
1 g contains 300-500 seeds. One portion is enough to sow a few metres in the open. Calculate 20-30 g to a 100 meter stretch.
A portion contains about 150 seeds.