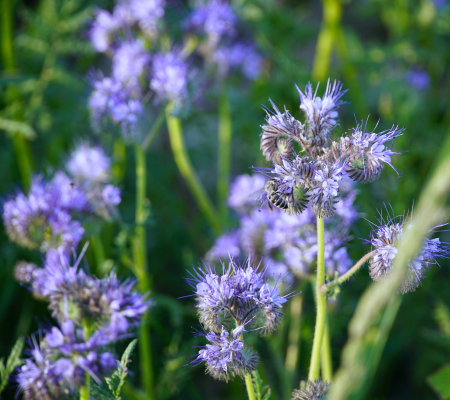 Lacy phacelia, organic seeds
---
Information
No description
---
| | |
| --- | --- |
| Product number: | GR125 |
| Scientific name: | Phacelia tanacetifolia |
| Botanic family: | The Waterleaf Family - Hydrophyllaceae |
| Organic: | Yes |
| Lifespan: | Annual |
| F1 Hybrid: | No |
| New variety: | Yes |
| Heirloom variety: | No |
---
Cultivation advice
Sowing
Can be sown from early spring until July-August. Scatter the seeds and rake them down lightly.
Spacing
-
Harvest
Cut down before the seeds have a chance to mature. Dig the foliage down or use as mulch.
Seed
A portion sows about 20 m2.
100 g sow 100 m2.
500 g sow 500 m2.
For 1 000 m2 you need 1 kg of seed.

A portion contains about 20 g.