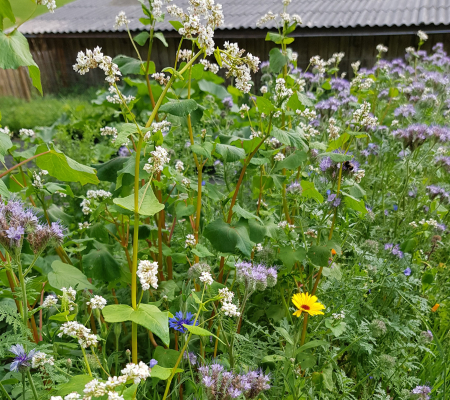 Nectar flower mix, organic seeds
---
Information
---
| | |
| --- | --- |
| Product number: | 997 |
| Organic: | Yes |
| Lifespan: | Annual |
| F1 Hybrid: | No |
| New variety: | No |
| Sowing time: | May–June |
| Sowing depth: | 1 cm |
| Germination time: | 7–20 days |
| Height: | 30–80 cm |
| Plant location: | Sun |
| Harvest/blooming: | July–frost |
| Seeds/g: | 300 seeds |
| Heirloom variety: | No |
---
Cultivation advice
Sowing
Sow directly in May-June (in the south and middle of Sweden - further north a bit later). It is prefereable to mix the seeds with sand, because it is so easy so sow too thickly.
Rake carefully and flatten the soil, for the seeds to get in contact with it. Water or wait for rain.
Spacing
1000 seeds for 3-5 m2.
Harvest
Several of the flowers in this mix are excellent cut flowers, for example Calendula, Corn flower and Common Mallow.
Seed
One portion contains about 800 seeds and is sufficient for sowing 3-5 m2.