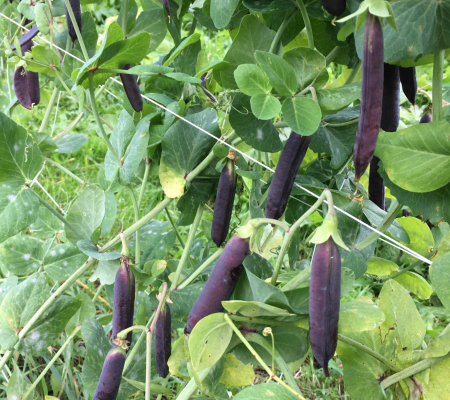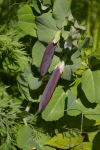 Blauwschokker, organic seeds
---
Information
No description
---
| | |
| --- | --- |
| Product number: | 9330 |
| Scientific name: | Pisum sativum var.arvense |
| Botanic family: | Fabaceae |
| Organic: | Yes |
| Days to maturity: | 75 |
| Lifespan: | Annual |
| F1 Hybrid: | No |
| New variety: | No |
| Sowing time: | April–July |
| Sowing depth: | 3–4 cm |
| Plant spacing: | 5–8 cm |
| Row spacing: | 35–50 cm |
| Germination time: | 7–10 days |
| Height: | 180–200 cm |
| Plant location: | Sun |
| Harvest/blooming: | June–frost |
| Seeds/g: | 2–4 seeds |
| Heirloom variety: | Yes |
---
Cultivation advice
Sowing
Shelling peas are sown as soon as the soil is ready. They can withstand relatively low soil temperatures. Sow the peas about 3 cm deep, possibly a little deeper when sowing in summer because of the need for moisture. For the peas to have time to develop properly sow at the latest in June.

If the peas are sown late in the season they can be harvested as mangetouts, before the seeds develop.
Spacing
Sow with a space of 5-8 cm between the plants and 35-50 cm between the rows. Peas can also be sown in double rows of 10-15 cm between the rows or scattered in broad bands. Tall and medium tall sorts need something to climb on.
Harvest
Shelling peas are picked and shelled when the pods are fully ripe but not overgrown.
Peas tolerate 1 degree or 2 of frost in autumn but easily become spotted and loose their crispness after a few nights of frost. All kinds of peas are eaten fresh, boiled or fried etc. They can also be dried, frozen or preserved.
Seed
1 g contains about 2-3 seeds. One portion contains about 30 seeds and sows 1,5-2,5 metres. 900 g for 100 m.