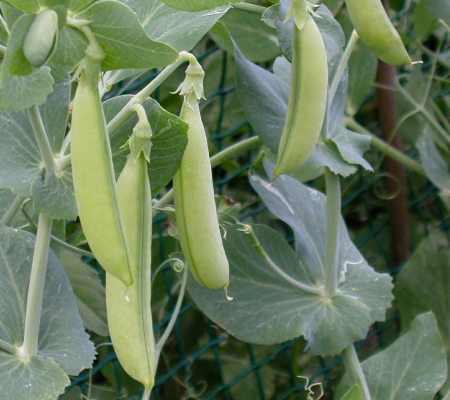 ---
Information
Is an extra early, quite short (50-60 cm) snap pea with lots of sweet, crispy, 6-7 cm long pods. They are plump, blunt and light-green. Sugar Ann is a medal winner and needs no or just some support. It is fast and reliable and may be sown until mid July. A portion contains about 50 seeds.
---
| | |
| --- | --- |
| Product number: | 9025 |
| Scientific name: | Pisum sativum var. macrocarpon |
| Botanic family: | The Bean Family - Fabaceae |
| Organic: | Yes |
| Days to maturity: | 58 |
| Lifespan: | Annual |
| F1 Hybrid: | No |
| New variety: | No |
| Heirloom variety: | No |
---
Cultivation advice
Sowing
Snap peas want a soil temperature of at least 8-10oC to avoid rotting. All kinds can be sown gradually from spring to summer. Sow the peas ab. 3 cm deep, possibly a little deeper when sowing in summer because of the need for moisture.
Spacing
Sow with a space of 5-8 cm between the plants and 35-50 cm between the rows. Peas can also be sown in double rows of 10-15 cm between the rows or scattered in broad bands. Tall and medium tall sorts need something to climb on.
Harvest
The snap pea may well be allowed to grow thick and juicy with almost fully developed seeds. Peas tolerate 1 degree or 2 of frost in autumn but easily become spotted and loose their crispness after a few nights of frost. All kinds of peas are eaten fresh, boiled or fried etc. They can also be dried, frozen or preserved.
Seed
1 g contains about 5 seeds. One portion contains about 50 seeds and sows 2,5-4 metres. 900 g for 100 m.