Rhubarb
Rheum rhabarbarum
The rhubarb is a member of the Sheath plant family, Polygonaceae, perennial and probably the result of crossing several kinds of Rheum. There are now at least 50 different kinds to choose from created by choice and adaptation. They are all of them very hardy and thrive in cooler climates. Rhubarb prefers thoroughly fertilized, moisture retaining, well drained soil. Please cover the soil to keep even humidity and curb the weeds.
It is seldom attacked by insects the leaves of the rhubarb are used to fight them instead, like diluted decoction, water of rhubarb leaves or fresh leaves around other plants. The leaves contain a lot of oxalic acid, among other things, and that is poisonous to us too. The root of the rhubarb can however be destroyed by rot fungi in waterlogged and acidic soil.
SOWING:
Rhubarb is usually propagated with pieces of root in autumn or early spring, but it can be sown directly outdoors too or indoors for setting out later. During a seedling"™s first winter outdoors it should be protected against black frost by a cover of hay, straw, grass or leaves.
SPACING:
Adult plants need a mutual space of about 120 cm. After a direct sowing the seedlings should be thinned out to 10 cm to be replanted next spring at greater distance.
HARVEST:
Normally, the harvest doesn"™t begin until the second, sometimes the third year after sowing. The stem of the leaf should be coaxed off and pulled out. This does the least damage to the root. If the plant is growing well a second crop can be taken until August. To prolong the harvest cut off the flower stalk when it is shooting up.
SEEDS:
About 100 seeds/g, one portion yields 15 "" 20 good seedlings and about for 1000 seedlings.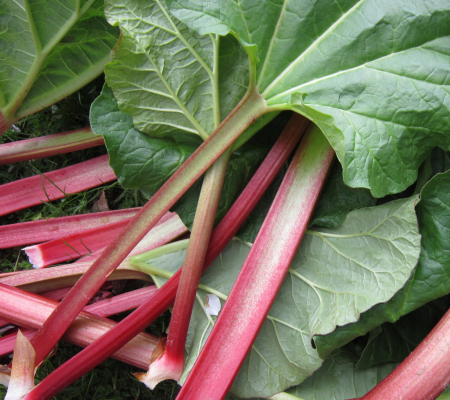 Glaskins, ekofrö
Eco
Is an English rhubarb with lower contents of oxalic acid then most sorts. The wine-red...
More info →
---