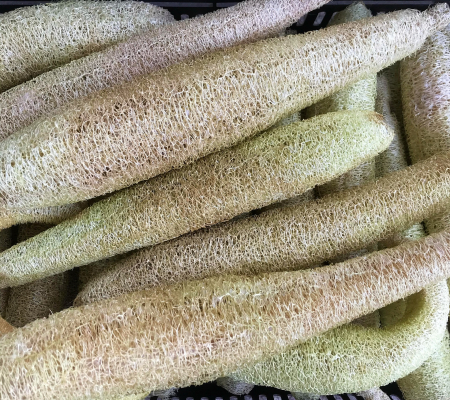 ---
Information
---
| | |
| --- | --- |
| Product number: | 3280 |
| Scientific name: | Luffa aegyptiaca |
| Botanic family: | The Squash Family - Cucurbitaceae |
| Organic: | Yes |
| Days to maturity: | 120 |
| Lifespan: | Annual |
| F1 Hybrid: | No |
| New variety: | Yes |
| Sowing time: | Pre-cultivate: March–April |
| Sowing depth: | 1-2 cm |
| Germination time: | 10-20 days |
| Plant spacing: | 25-35 cm |
| Row spacing: | 60-80 cm |
| Height: | 200–300 cm |
| Plant location: | sun |
| Harvest/blooming: | August–September |
| Edible seeds: | No |
| Seeds/g: | 12-14 seeds |
| Other: | Greenhouse |
| Heirloom variety: | Yes |
---
Cultivation advice
Sowing
The seeds are usually sown indoors in mars-april. Sow in pots, 1-2 cm deep. The fastest and most reliable germination is at a temperature of 25
°
C. Plant in greenhouse after the last risk of frost.
Spacing
Between the plants 25-35 cm, between the rows 60-80 cm. The climbing vines of the cucumber needs to be bound up.
Harvest
Let the fruit ripen completely on the plant and harvest just before the first frost in autumn. Let the fruits ripe and dry indoors in a warm and airy place. Then peel the fruit carefully and let it dry for a while so that you can shake out the seeds. Loofah is an excellent alternative to plastic-based sponges.
Seed
12-14 seeds / g.
a portion contains about 5-6 seeds.