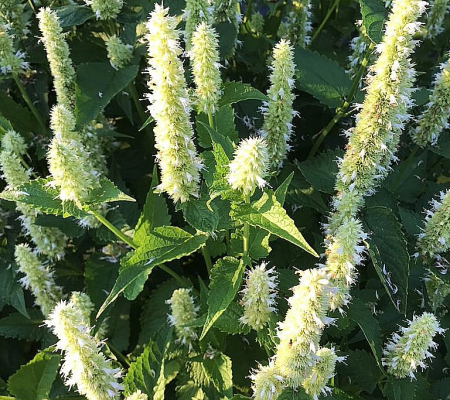 Korean mint, white flowered, organic seeds
---
Information
---
| | |
| --- | --- |
| Product number: | K126 |
| Scientific name: | Agastache rugosa |
| Botanic family: | The Mint Family - Lamiceae |
| Organic: | Yes |
| Lifespan: | Perennial |
| F1 Hybrid: | No |
| New variety: | Yes |
| Sowing time: | Pre-cultivate: April–May |
| Sowing depth: | 0,2 cm |
| Germination time: | 10-30 days |
| Plant spacing: | 20 cm |
| Row spacing: | 30 cm |
| Height: | 80 cm |
| Plant location: | sun |
| Harvest/blooming: | June-September |
| Edible seeds: | No |
| Seeds/g: | 7000 seeds |
| Heirloom variety: | No |
---
Cultivation advice
Sowing
Sow the small seeds indoors in April-May and set out at 30 cm of mutual space when the risk of frost is over.
Spacing
Keep 30 cm between plants.
Harvest
The whole plant smells strongly and aromatically of Anise and Mint and the leaves are used as herbs and tea.
Seed
1 g contains about 7000 seeds.
A portion contains about 100 seeds.