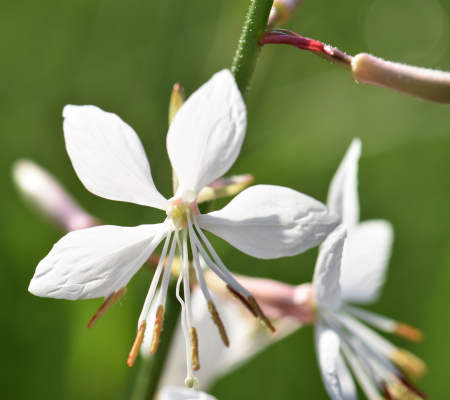 Beeblossom, organic seeds
---
Information
No description
---
| | |
| --- | --- |
| Product number: | 490 |
| Scientific name: | Gaura lindheimeri |
| Botanic family: | Evening Primrose Family - Onagraceae |
| Organic: | Yes |
| Lifespan: | Perennial |
| F1 Hybrid: | No |
| New variety: | Yes |
| Heirloom variety: | No |
---
Cultivation advice
Sowing
Sow indoors in March-April and plant out after the risk of frost has passed. Sow the seeds shallowly or just press them against the soil surface. Do not let them dry.The seeds can benefit from soaking before sowing.
Spacing
Keep 30 cm between plants and 40 cm between rows.
Harvest
-
Seed
A portion contains about 50 seeds. They need light to grow.