Dill
Anathrum graveolens
Dill is an umbel-flowering herb originating in the Near East. It grows wild in southern Europe among other places. Dill prefers sun "" half-shadow in a nutritious, loose, evenly damp (not wet) soil with some clay in it and a good supply of phosphorus. To avoid fungus contamination, dill shouldn"™t be grown in the same place oftener than every 4-6 years. No other kind of umbel-flowering plant, like carrot, parsley, parsnip etc should be grown there in the meantime. Damage from sprout-burn, root-burn and various propagation-fungi, which make the plants brown and wilting, should be prevented and fought using a decoction of horsetail and extracts of algae both before and after sprouting.
Please cultivate dill in the company of the cabbage "" and onion-families and lettuce.

SOWING: Sow thinly ab. 1cm deep directly in the plot as soon as it is ready, a little later for dill heads in southern Sweden. Dill can also be sown in the autumn (the seed must not sprout) for an extra early harvest the next year.

SPACING: Keep 30- 40 cm for leaf""dill and 40 "" 50 cm for dill heads, which should also be a few cm away from its closest neighbours in the row. Leaf-dill can also be sown by scattering the seeds over a seed-bed.

HARVEST: Pick the leaves gradually during summer and autumn. If the whole plant is cut down, it grows back again. The leaves can be dried or frozen for winter really well, but should be harvested before the plant flowers. Dill heads for pickles and preserves should be cut off just before the flowering ends.

SEEDS: 600 "" 700 seeds/g and one portion sows 5 "" 7 m leaf-dill or about 15 m for dill heads. About 70 g sows 100 m and 25 g for crowns of dill.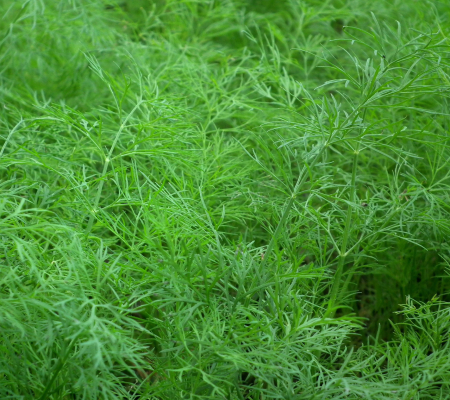 Tetra, ekofrö
Eco
Is an excellent leaf-dill which begins blooming later than the 'common' dill. Tetra forms...
More info →
---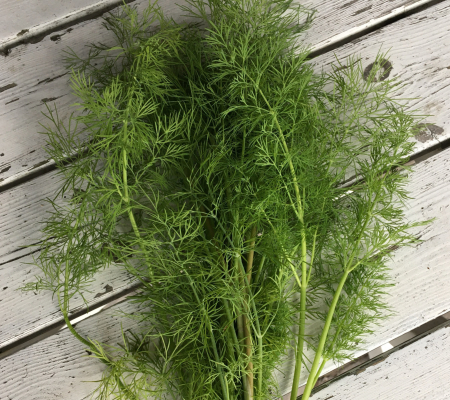 Vanlig, ekofrö
Eco
Is an old reliable species of dill without a name of its own. It is easy to grow and...
More info →
---