Japanese lantern (or Cape Goosberry)
Physalis franchetii
Is a perennial member of the potato family, Solanaceae. It originates from East Asia and Japan, (South America according to some sources). A beautiful upright small shrub, grown for the balloon-shaped orange-red fruit casing. It\'s dried by hanging upside down. Prefers a chalky, porous and a slightly dry soil with partial sun. Height is 80 cm.

SOWING: If sown very early in pots between December and March they can be moved out for a few weeks to give the seeds a cold period and thus better germination. Otherwise sow very shallowly indoors in April or directly outdoors in May. The seeds need light for successful germination. Plant distance is 30 cm.

SEED: 1g contains about 600 seeds.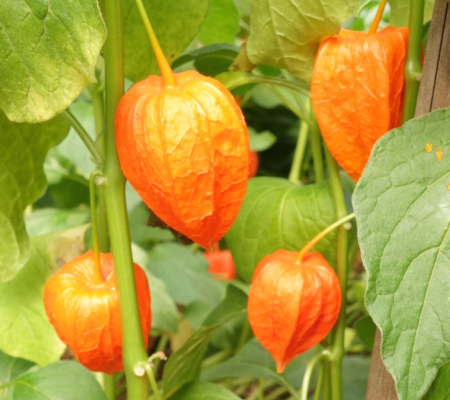 Japansk Lykta, Gigantea, ekofrö
Eco
Has an orange perianth. 600 seeds/g. A portion contains about 100 seeds.
More info →
---