Mint
Mentha spicata/viridis och M. piperita
The mints belong to the Lamiaceae family. They hybridize with each other most industriously so "˜pure"™ seeds are almost impossible to obtain. 600 variants are supposed to be in existence. The so called "˜true"™ peppermint can only be propagated vegetative by root cuttings and slips. We, however, offer the seeds which are on the market and allow everyone to decide for themselves whether the aroma and flavour of the plants are the correct ones.
They are originally from all over Europe and North Africa. They are and have been very important for a long time as flavourings and medicine. The Mints are perennial and spread by slips. They prefer well drained, moist, limy, nutrient-rich soil in half-shadow, but are able to handle dry and nutrient-poor soil and full sun-light too.
They grow about 40-50 cm tall with rose-violet flowers. Their powerful aroma bewilders the insects and can thus help attractive vegetables against attacks.

SOWING: They should be sown very shallowly indoors 6-8 weeks before setting out when the risk of frost is over. Keep 20-30cm between the plants!

SEEDS: 12000 seeds/g, one portion yields several hundred seedlings.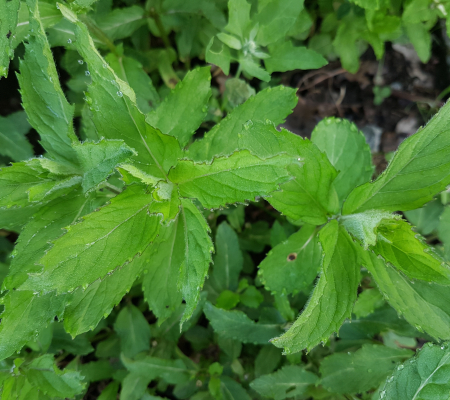 Pepparmynta, ekofrö
Eco
Mentha piperita contains spearmint oil and smells of menthol. It winters over without...
More info →
---