New Zealand Spinach (or Cook\'s Cabbage)
Tetragonia tetragonioides (previously T. expansa)
This perennial plant belongs to the Aizoaceae family and grows wild in among other places, New Zealand and Australia. That\'s where Captain Cook found it in 1771 and brought it with him back to Europe. Here it is only grown as an annual.
It is not in any way related to regular spinach, but is a very good replacement in summer and autumn.
New Zealand spinach grows lush and forms a large, branched and widespread mass of leaves. It blooms late, or not at all and has quite thick, fleshy leaves with a clear spinach-like flavour.
It grows in most soils, but thrives best in warm, well fertilized soil. New Zealand Spinach can withstand drought and heat well when it is well-rooted and does not form nitrite as easily as ordinary spinach.

SOWING: Sow fresh seeds indoors or in a hotbed, approx. 2-3 cm deep, in March-April and set out the plants once the danger of frost is over. They can also be sown directly outdoors in May and June in southern Sweden, so probably even earlier in the rest of Europe.
The large, spiky seeds have a hard shell and grow slowly, so soak them in lukewarm water for 1-2 days before sowing. You can also drag the seeds over a sandpaper a few times and even beat them lightly with a hammer to make it easier for the water and the germ to get through.

DISTANCE: Distance between plants is 40-50 cm, and between rows 70-80 cm.

HARVEST: Harvest the leaves and shoot-tops when needed, until late autumn. The are eaten like spinach.

SEEDS: 1 g contains about 20 large, spiny seeds. One portion provides approximately 10 plants. When sown directly outdoors 50 g is enough for about a 100 metres stretch.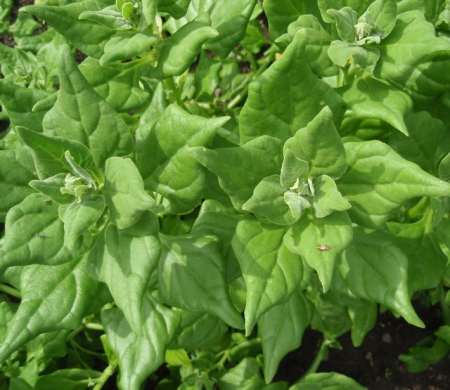 Nyzeeländsk Spenat, ekofrö
Eco
One portion yields about 10 seedlings and you need ab. 50g for sowing 100 m directly. A...
More info →
---