Mesembryanthemum
Mesembryanthemum criniflorum
is an annual of the Aizoaceae family originally from South Africa. It is a low spreading plant of fleshy, edible leaves and beautiful flowers resembling the ox-eye daisy of many different colours which open in sunlight. This plant is used in salads the world over and prefers sand-mixed soil in the sun, 10 cm tall.
Sow very shallowly indoors in February-March and do not let the sowing dry out. Set out after the risk of frost is over, 20 cm between the plants. 3300 seeds/g one portion yields at least 200 excellent seedlings.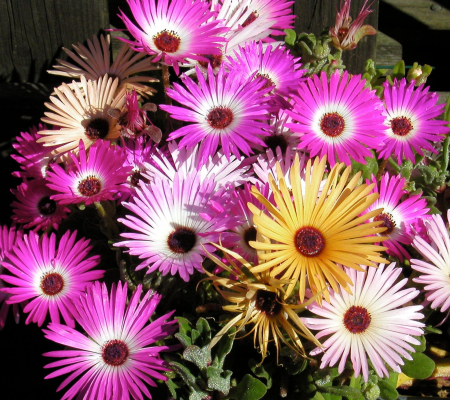 Doroteablomma, Bl. färger, ekofrö
Eco
Mixed colours. One portion contains about 100 seeds.
More info →
---