Daikon
Raphanus sativus var. longipinnatus
This fast growing, white Black Radish is very common especially in China and Japan, where it has been grown for 5000 years. It is supposed to be of the same origins as our European Black Radish but it has developed in quite another direction. More than 25% of the Japanese vegetable harvest consists of Daikon. The Chinese variants are traditionally and usually blunt while the old Japanese ones are pointed. Nowadays there are many mixed forms. The daikon black radish, which prefers deep soil, gets 25-50 cm long and 4-7 cm wide. It is very crispy and juicy and is used in hundreds of Asian dishes, raw in salads and on bread, poached, steamed, fried, deep-fried, preserved in many different ways, dried in pieces and staves and to crown all sculpted for banquets. Late harvested black radishes can also be stored in a cellar during winter. The only draw-back this easy-to-grow vegetable has is that several sorts easily bloom in summer if sown in spring, but the root is still edible for a time after the flower-stem has begun to grow. Sowing in July yields the best crop and avoids most of the pests as well. Read the chapter on radishes for advice on cultivation!

SOWING: Sow 1-2 cm deep! Modern slow-to-bloom hybrids should be sown in early spring. The normal seed-consistent standard sorts should be sown from mid July because of their tendency to bloom under our many hours of light in summer which delights the bees enormously. Roots which are blooming after a too early sowing are not lost on the contrary the seed-pods are thick and plump and very spicily delicious, fresh or cooked. Roots for storage should be sown in mid July.

SPACING: Thin out to 15-20 cm of mutual space and keep 35-50 cm between the rows.

HARVEST: Begin harvesting as soon as the daikons have reached edible size. Roots for storage should be harvested in late autumn and treated in the same way as carrots. Daikon can take some frost but must thaw out completely before harvest.

SEEDS: 50-80 seeds/1g, one portion sows several meters, and about 20 g sows 100 m and 500-800 g for 1000 m2.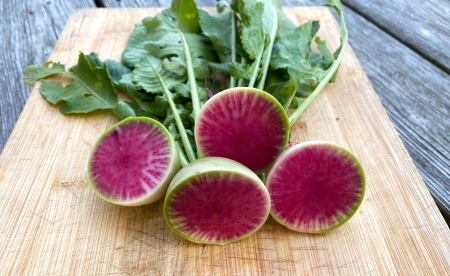 Misato Rose, ekofrö
Eco
Brings a surprise inside its peel: It's an unremarkable white-light-green on the outside...
More info →
---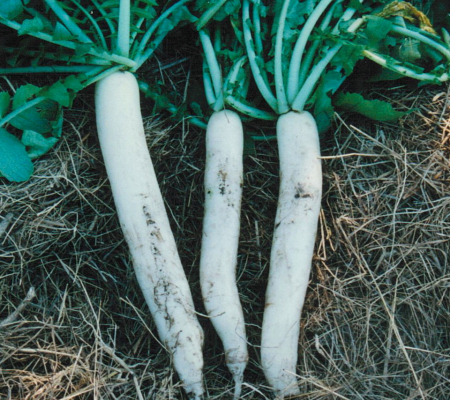 Minowase, ekofrö
Eco
The roots are completely white and very uniform about 40 cm long and 5 cm thick with...
More info →
---