Turnip
Brassica rapa
The turnip is on of the oldest root vegetables grown at our latitudes. It was probably common already during the Bronze Age here with us and also all around Europe and in the central and western parts of Asia. The turnip and the Egg turnip are of the same species and the difference between them is largely cultural. The people and the livestock ate turnips. They grow almost everywhere and yield a vast harvest, especially the so called round- and long turnips. The Egg turnips which were grown in the past and are still grown in this country, come from the North and East, even though there are a trace or two of southern immigration as well. It is not easy to grow tasty turnips. They easily develop an acrid and bitter taste if they have to endure drought or the heat of summer. Their quality gets better later in the season when the weather is cooler and damper. We have harvested the tastiest turnips after sowing them in July and harvesting in September-October. They need the same conditions as egg turnips do with a moisture-retaining soil, a well balanced pH and an even supply of nutrients, preferably from compost or an earlier crop of green manure. Large amounts of nitrogen like chicken manure and grass cuttings grow a vast mass of tops and roots which easily become hairy and bitter.

SOWING: Sow gradually when the soil is ready in spring, about 1 cm deep until August in the South. Roots for winter-storage should be sown in July.

SPACING: Thin out to 15 cm between the plants and keep a distance of 30 cm between the rows.

HARVEST: Small turnips are the tastiest ones. Begin harvesting when they are 5 cm in circumference and use them raw, sliced, grated or in casseroles, gratins and soups or fried, oven baked, mashed and porridge, wherever they may fit. They must have been cooked in many different ways for millennia. The Romans, for instance, ate the turnips with honey. During the Middle Ages Royalty were regaled with sculpted turnips in the most exquisite of shapes. Imagination only sets the limits. In today"™s cookery books there are no recipes for turnips so everyone is free to experiment.

SEEDS: 4-600 seeds/g, one portion sows 5-7 m.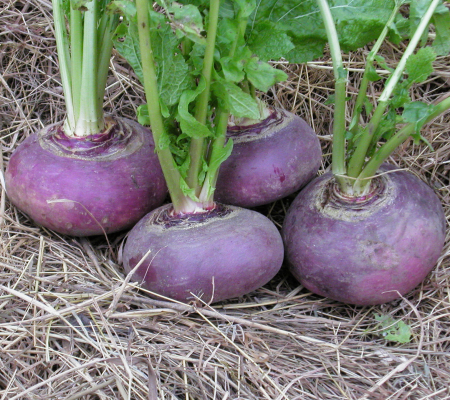 Svedjerova, ekofrö
Eco
Burn-beating Turnip, is an old turnip from Finland named for its frequent use in...
More info →
---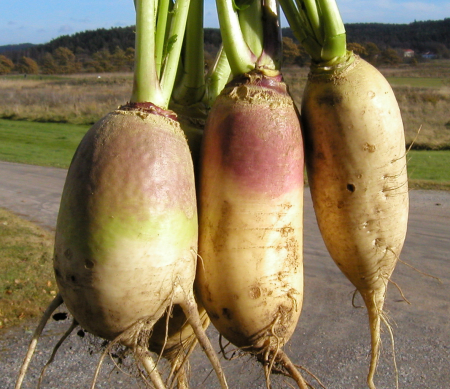 Gränsrova, ekofrö
Eco
(Border turnip) Comes from The Swedish-Norwegian border-lands but the Finns may have...
More info →
---