Winter Squash
Cucurbita maxima and pepo
Winter squash is another species, (there are exceptions), and is called winter squash because it is excellent for storage, not just over the winter but for a whole year, some sorts that is, when correctly treated.
The peel is hard and shape and size vary between small smooth drops to warty giants. The colours vary from dark-red across the whole spectrum to blue-black.
Most people perceive winter squash as quite a new vegetable, but already at the end of the 1800s there were several kinds for sale in Sweden. Most of them disappeared after the First World War for some reason and were forgotten.
In our climate, where we must be able to store the vegetables over the winter, winter squash should be the obvious choice. It is also especially valuable for its nourishing qualities and delicious flavour.
They are climbers and need lots of space. They also need quite a long frost-free season. In the north they should be grown in hotbeds or green houses or under some form of protection by cloth to yield a crop, reliably. The cloth should be lifted to make it possible for the bees to fertilize the flowers. They are, however, not as heat loving as for instance the cucumbers. During fine summers some kinds can yield a decent crop far up the Northland coast without any protection.
The flesh is deep yellow to deep orange, sweet, more or less free of fibres and a lot more substantial as a food than summer squash and pumpkins and marrows. It is rich in vitamins and minerals and has the same content of water as carrots. The taste resembles that of yams.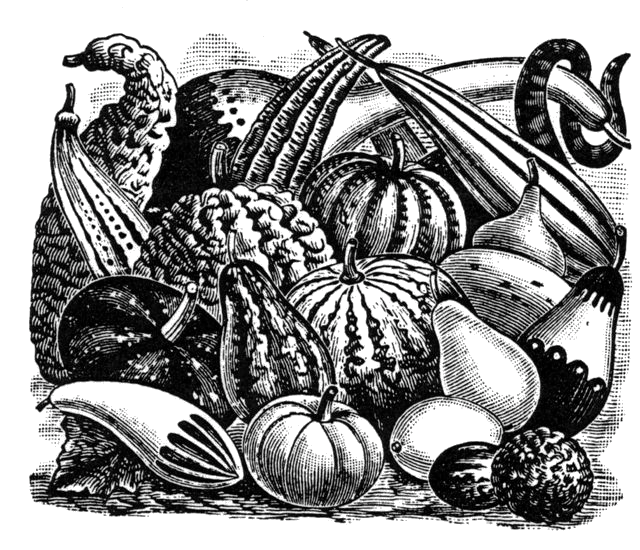 SOWING:
Read the chapter on summer squash!
SPACING:
Give the plants a mutual distance of 50 "" 80 cm and keep a distance of 100 "" 140 cm between the rows depending on sort. In group planting: 3-4 plants/group, 180 "" 240 cm between the groups.
HARVEST:
Allow them to grow as long as possible but harvest them and keep 5cm of the handle, before the frost reaches them. Damage by frost lessens their keeping qualities considerably. The vigorous leaves usually protect the fruits against the first night"™s frost. The riper they are the longer they can be stored and the better do they taste.
If the fruits are dirty, wipe them with water mixed with a little spirits of acetic acid or spirits. Allow them to dry in the air and create cork tissue indoors after harvest, ideally in an airy space with a temperature of 25-32°C for about 10 days. An electric fan is useful if your crop is a big one. Store them in a cool (7-16°C), dry place of good air circulation. Preferably, the squash should not be close to each other.
The simplest way to keep the fruits is to put them up on a shelf in the kitchen or in a room as decorations and then eat them gradually as needed or as soon as one of them shows signs of attack by mildew, usually at either end. We have kept fruits that way for more than a year.
Winter squash of the species C. pepo can be stored without being especially dried, but cannot be stored for as long a time still maintaining their quality and taste.
To speed up their growth and ripening you can allow each plant 2-3 fruits, the other ovaries and small fruits are cut away and eaten as summer squash. You can also cut the vines if they are growing too long.
Winter squash can be used in many different ways, halved and baked in the oven, fried, stewed, in soups, casseroles and sauces and sweetened in pies, desserts and pastries. Read further in our booklet of recipes for ways of cooking squash, pumpkins and marrows.
SEEDS:
2-10 seeds/g, yield about 5 seedlings. 20-60 g yield 100 seedlings and 40 "" 80 g sows 100m.