Squash, Pumpkin and Marrow
Cucurbita pepo and C. maxima
Squash and pumpkin, both belong to the cucumber family Cucurbitaceae and are annual climbing plants from Central America. Their origin is shrouded in mystery and no wild relative and possible ancestor has been found.
The earliest squash was small and bitter and probably only the seeds, rich in protein and vitamins, were used. Already 9000 years ago squash and pumpkins were cultivated resembling those we have today. Since then they have been very important as a basic food for Native Americans in South- Central- and North America together with beans and corn.
When the Europeans came to America they were surprised to find the multitude and number of squash there were, from small sweet, juicy ones to hard, dry giants being baked whole in the embers. In Europe the American squash was received coolly. The "˜pumpkin"™, which had been grown in Europe in the Middle Ages had come from the "˜hanging gardens"™ of Babylon via the Roman Empire, was almost certainly of the Lagenaria family (gourds).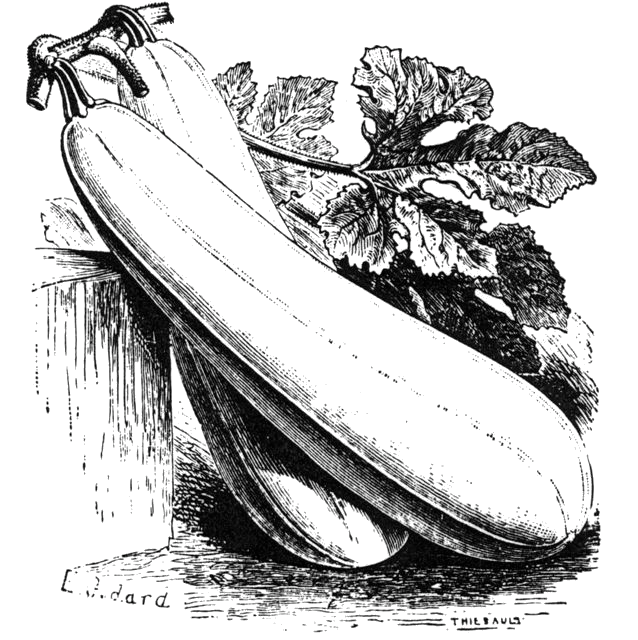 The squash wasn"™t seen as worthy of human consumption until the 1800s with one exception, the Italians, who took a fancy to the fast growing, mild varieties of squash. They had developed their Zucchini 300 years ago. It was, however, via USA the squash arrived in Europe to greater extent around the 1900s in the company of a great many other sorts for both summer and winter use.
One big question mark remains, however, in the history of squash, their well documented cultivation and use in East Asia long before our calendar began. How did they come there? From where? Did they originate there?
Squash and pumpkins are easy to grow, preferring warm moist soil, rich in humus and nutrients. Manure with compost and well burned dung and grow them in a sunny place out of the wind. It is a good idea to cover the soil with plant refuse to keep it damp and the fruits clean. Protect if there is risk of frost! Read the chapter on growing cucumber plants for more advice on cultivation. Squash especially likes growing near Nasturtium and Borage plus all the plants all cucumber plants like.
In seed cultivation C. pepo (summer squash and marrow) can cross-fertilize with C. mixta and C. moschata (winter squash for warmer climates). C. maxima (our common winter squash) can also cross-fertilize with C. moschata but not with C. pepo.
Courgette
Cucurbita pepo
Courgette is an early, shrub-like plant that produces lots of new fruit as long as they are harvested. Some single varieties with winding tendrils are also available. See the variety descriptions.
They cannot be stored for more than a few weeks in the cool department of your fridge. Big autumn specimens with a hard shell can withstand a few months in a cool(7-16°C), dry place.
The small fruits that rots from the tip have not been fertilized. It's usually not needed, but if the weather is bad and the number of insects low during flowering, you can help by transferring pollen from male to female flowers. See the Breeding cucurbits article.
SOWING:
Seed can be sown directly outdoors when the soil is thoroughly heated (min. 15°C). If the soil is cold, the seeds don't germinate, but rot. The safest way is to first plant indoors or in a hotbed. Sow about 3 cm deep in pots with 2-4 seeds in each, approx. 4 weeks before the expected planting out. Save 1-2 seedlings (in each pot) and allow them to be quite warm, bright and airy. Gradually get them used to the cooler environment outside, and plant out when the soil is warm and the danger of frost is over. Squash have sensitive roots, so be careful when planting.
DISTANCE:
between plants 40-80 cm and 90-130 cm between rows. In group planting: 3-4 plants/group and 120-150 cm between the groups.
HARVEST:
Always cut off the fruits when they are 10-20 cm long. They taste best when. Raw, cooked, fried, etc. Look for recipes in our recipe booklet and on the Internet.
SEEDS:
1 g has 7-10 seeds. A portion of about 1 g of gives at least five good plants in the greenhouse. For a 100 meters stretch of plants approx. 40g is needed.
Seed-production Courgette, pumpkin, C. pepo