Coriander
Coriandrum sativum
belongs to the Umbel family and has white-pink flowers. C. is originally from the Middle East where it has been grown as herb and medicinal plant for at least 3000 years. It is supposed to be the "˜manna"™ which fed the Israelites in the desert. In China coriander was thought to give eternal life, in Europe it was used as aphrodisiac. This plant is annual, 50-60 cm tall It prefers a dry, quiet, sunny and weed-free plot to grow in. Allow the seeds to ripen completely before harvesting. Dry the whole plant hanging upside down in an airy place with a cloth beneath it. The seeds are used for spice mixtures, baking, rice- and cabbage dishes, soups and casseroles, sauces, pickles etc.

SOWING: Sow directly outdoors early and then thin out to 15-30 cm of mutual space. Sow coriander in intervals so you can enjoy fresh leaves through the season.

SEEDS: 90 seeds/g. One portion gives 40-50 good plants.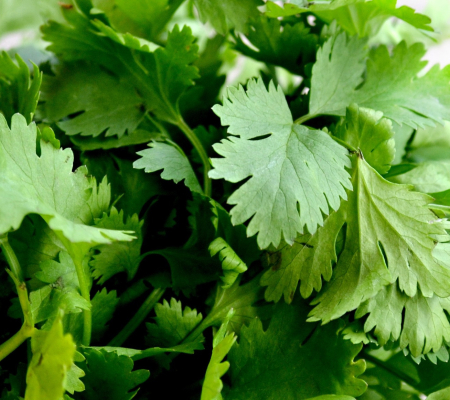 Bladkoriander, Filtro, ekofrö
Eco
Extra slow flowering and tasty leaf coriander from the United States. The leaves, stems...
More info →
---