Florence Fennel
Foeniculum vulgare var. dulce
The Florence Fennel, the finocchio, is an umbel-flowering plant originating in Southern Europe. The leaves are thick at the base and create a distended dense bulb with a distinct taste of fennel.
The fennel thrives in a sheltered, warm place and in light soil. It doesn"™t need a lot of nutrients, but wants to grow evenly with a plentiful supply of water. The fennel is affected by frost and can only take about -1°C of frost.
Attacks by insects are rare, but the fennel can be affected by the same insects as other umbel-flowering plants. See for example carrot and parsley. The fennel should be planted apart since most vegetables and herbs dislike being anywhere near it.
SOWING:
Sow 1-2 cm deep indoors 5 "" 6 weeks before planting outdoors or in May in a plot facing south. The temperature of the soil should be at least 10°C. Be careful when planting, if the roots are damaged the risk of flowering increases.
SPACING:
The normal distance between rows is 40 "" 50 cm and the distance between the plants varies between 15 "" 30 cm.
HARVEST:
Harvest the bulbs gradually. Banking up the soil, leaves or straw around them protects them against cold and prolongs the harvest. The bulbs can be stored for a few weeks in cool storage. The leaves can be used as herbs.
SEEDS:
About 250 seeds/g and one portion yields at least 50 good seedlings in pre-cultivation and sows 3-5 m directly. 10 g are needed for 1000 seedlings and for 100 m about 20 g.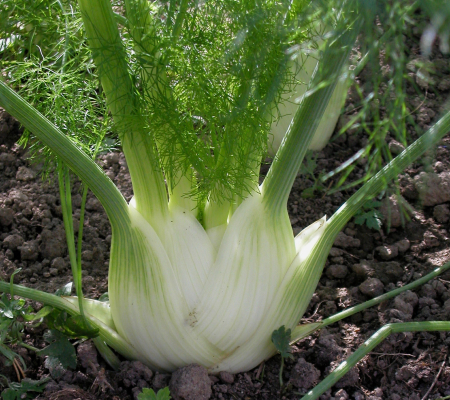 Zefa Fino, ekofrö
Eco
Is quite an early bulb fennel, slow to flower, originally from Switzerland, with a large...
More info →
---