Parsnip
Pastinaca sativa
The parsnip belongs to the same family as the carrot and was bred, by selective breeding, from the wild parsnip, which grows in large parts of Europe and Asian Russia. It was developed chiefly in England and the long cone shaped roots turned up sometime during the Middle Ages. The more or less ramified ones and the round ones have almost disappeared.
It is one of our hardiest root vegetables which also become the sweeter after a good freezing. A parsnip which has wintered contains three times as many kinds of sugar as a parsnip harvested in autumn.
The parsnip prefers a deep somewhat richer soil with lots of humus. A lack of fertilizer causes hairy roots and dried out soil makes the parsnips crack.
Grow the parsnip in the company of onions, radishes, sweet corn, cress, borage, but not potatoes.

SOWING: Always use fresh seeds and sow early in spring ab. 1 "" 2 cm deep! To speed up the germination, which takes ab. three weeks, you can put the seeds in tepid water for ab. 24 hours before sowing. Dry them and sow! Watering the row before sowing is another method of speeding up germination or sow late in autumn just before the ground frost sets in. Do not allow the soil to dry out during germination.

SPACING: Keep 8- 13 cm between the plants and 40 "" 60 cm between the rows!

HARVEST; Harvest as late as possible as the parsnip grows vigorously in autumn and tastes better after freezing. Leave about 2 cm. of the tops and keep them in the same way as carrots. Small parsnips from thinning can be enjoyed as delicacies during summer and autumn.
If you cover the parsnips, still in the ground with a thick layer of hay, straw or something similar, they can be harvested until they become stuck in the ground from freezing. The wintered roots are white and delicious, but must be taken up as soon as thawing begins. If they begin to grow again their marrows become wooden and unappetizing.

SEEDS: 150- 250 seeds/g. One portion sows about 5-7 m. 15 "" 20 g sows 100 m and 250- 400 g sows 1000 m2.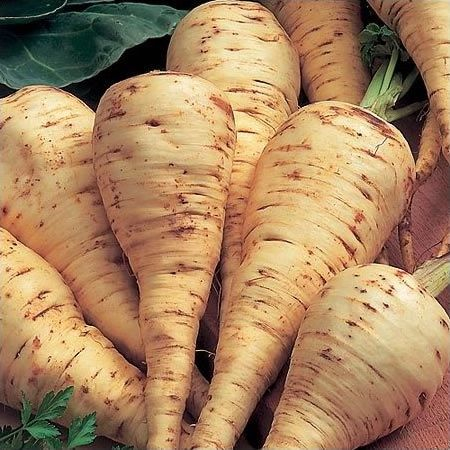 Student, ekofrö
Eco
Sutton's. Is an old retainer, which we ourselves have kept going for many years. It...
More info →
---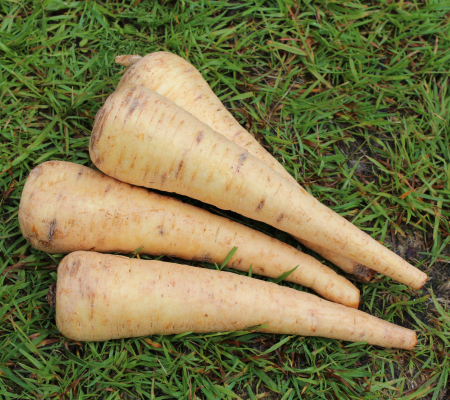 White Gem, ekofrö
Eco
Is one of the most commonly cultivated parsnips in the Nordic countries today, improved...
More info →
---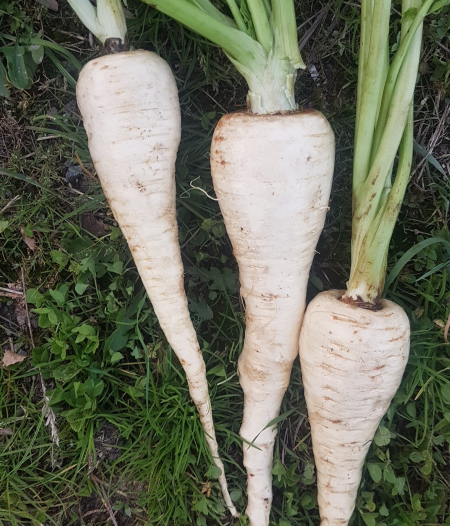 Halblange Weiss, ekofrö
Eco
Old variety, very well known in Germany and Austria. Relatively quick with fine,...
More info →
---