Anise - Hyssop
Agastache foeniculum och A. rugosa

is a perennial belonging to the labiate family, Labiaceae. This is a sturdy, upright, branched plant of unusually pointed, serrated leaves and dense spires of small flowers from July to September. The whole plant smells strongly and aromatically of Anise and Mint and the leaves are used as herbs and tea. Anise-Hyssop thrives in well fertilized, moisture-retaining, well drained soil in full sunlight where it can grow 1m. tall, usually 60-80cm. It is hardy, tolerating drought, cold and heat. Bees and butterflies prize it highly.

SOWING: Sow the small seeds indoors in April-May and set out at 30 cm of mutual space when the risk of frost is over.
SEEDS: 1 g contains about 7000 seeds and one portion is sufficient for at least 50 plants.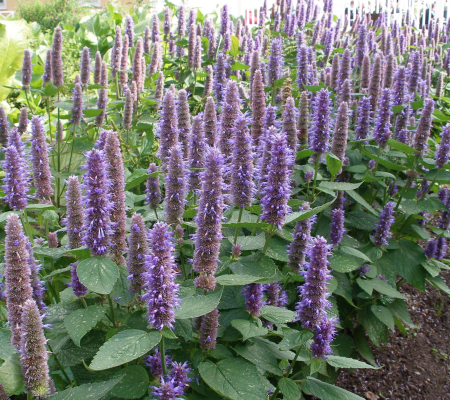 Anisisop, ekofrö
Eco
Comes from Northern America and has blue-violet flowers. A portion has about 500...
More info →
---
Koreansk Anisisop/Mynta
A. rugosa is originally from Eastern Asia with purple-pink flowers. A portion contains...
More info →
---