Mullein
Verbascum thapsus
is a bi-annual of the Snap-dragon family which grows wild over vast parts of Asia and Europe. This is a grand sturdy plant covered in yellow flowers with large oval, a little downy, grey-green leaves and grows at least 150 cm tall in limy, well-drained soil. It also self-sows easily.
The flowers are used for decoration, fresh or dried, flavouring liqueur, deterring rats, mice and roe deer, for tea against coughs and hoarseness. Leaves and stalks are slightly poisonous and should only be taken in small doses.

SOWING: Sow directly outdoors during spring and summer! It creates a beautiful rosette of leaves the first year.

SEEDS: 13500 seeds/g.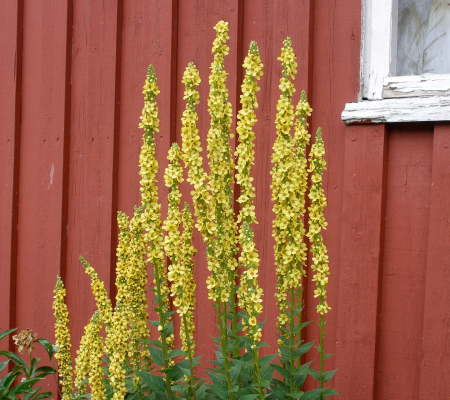 Mörkt Kungsljus, ekofrö
Eco
Stately, perennial mullein with dark green, glossy, finely serrated leaves. The flowers,...
More info →
---