Wild Strawberry
Fragaria vesca var. semper florence
Wild Strawberry, belonging to the rose family Rosaceae, is like its modern relative the strawberry, originally a forest plant. It seems however to grow well in the most diverse soils. The most important thing is that it never dries out.
The Wild Strawberry plant is a small dense shrub, 20-25 cm high and equally wide. It is perennial, and after 2-3 years, it is suitable to divide the rootball to get more plants. Full sun is not a must, and it grows equally well in partial shade, although the flavour of the berry is best in full sun.
It is a beautiful and sturdy plant with white flowers that are excellent for borders, flower beds, pots and urns. The Wild Strawberry plant usually produces a harvest from midsummer until frost, even in the first year, especially so, if sown early indoors, and then planted out.
SOWING:
Sow very shallowly indoors in March or April; just press the seeds into the soil. Cover to retain moisture and keep between 16-24°C. The seeds germinate in 2-3 weeks. Pot them and plant out at 30 cm distance when all risk of frost is over. It is also possible to sow directly outdoors when the soil has warmed up.
The sweet Wild Strawberry taste only develops just before the fruit reaches full maturity, so do not pick too early.
SEEDS:
1 g is about 3000 seeds. Normal germination rate is 50-75%.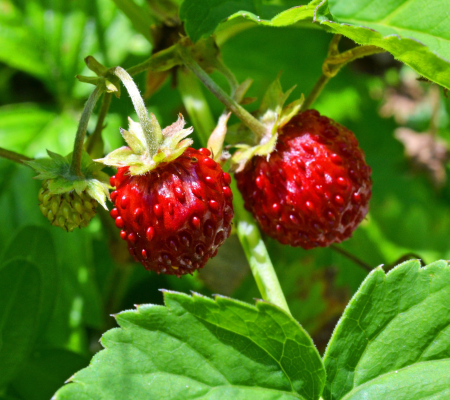 Fragola di Bosco, ekofrö
Eco
It yields deep-red,delicious berries all through summer and autumn. They are larger than...
More info →
---