Egg Plant, Aubergine
Solanum melongena
The Egg plant, also called Aubergine, is originally from South-East Asia and Southern India unlike tomatoes and potatoes, which are closely related to it. The early egg plant was prickly with strange, bitter fruits. The mild smooth fruits didn"™t turn up until 2000 years ago in China and Japan. The fruits were still, however, quite small and white or green in colour with the doubtful reputation of being poisonous. Dramatic changes occurred when the egg plant reached the Middle East several hundred years later. The fruit was soon several times larger and the colour dark-violet. It was and is very much appreciated.
This "™new"™ egg plant spread from the Middle East back East and is now grown all over of Asia to great extent. The Moors from North Africa brought it to Spain in the 1000s but it was received with scepticism in Europe. Only the Italians didn"™t refuse to eat it. Until 200 years ago the egg plant was grown almost exclusively as an exotic ornamental plant (the Latin name means "˜mad apple"™).
The plant resembles peppers in shape but with larger, lustre-less leaves and green-violet colour. It is a beautiful plant with light-violet flowers and it is grown as an annual. The fruit is usually dark-violet and round to oblong. There are, however, white and green variants in sizes from pigeon eggs to ostrich eggs. The egg plant is affected by frost and loves heat and shouldn"™t be grown in the same soil more often than every 4 years because of the risk of contagion. Grow it in the same way as tomatoes but it loves a little more heat. Read further in the chapter on tomatoes!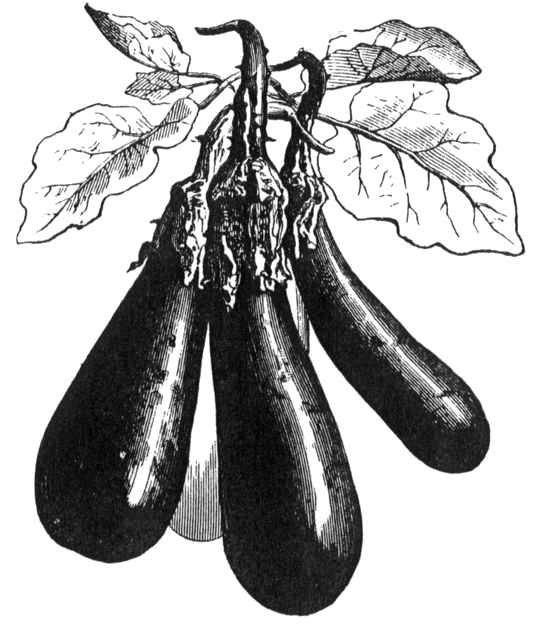 Supply the egg plants with sufficient water and heat and it is also a good idea to plant them in the company of bush- and pole beans. The egg plant should be grown under cover to get a reliable harvest in the greater part of this country.
SOWING: Sow indoors, 0.5cm deep, from January through March! Keep the temperature at 24-30°C during germination and around 20oC after sprouting! Lower the temperature successively to temper the plants before setting out.
SPACING: Keep 5-7 cm between the plants during the pre-cultivation and then 50 "" 60 cm of mutual distance when setting them out. The egg plant can be topped when it is 25 cm tall, if one wants a bushier plant. Allow 3 branches to develop!

HARVEST: Pick the fruits regularly to stimulate further setting of fruit. They keep for a few weeks in a cool place. Aubergine is eaten fried, roasted, baked, raw, boiled etc etc.
SEEDS: About 200 seeds/g, one portion contains enough seeds for 10 seedlings. 8 g yield about 1000 seedlings.