Asparagus
Aparagus officinalis
Asparagus is a perennial plant, which nowadays belongs to its own family, Asparagaceae. It grows wild on the sandy beaches of southern Europe and runs wild along our northern coasts too. The Romans began growing it more than 2000 years ago. Asparagus needs well fertilized, well drained, porous, sandy soil with no perennial weeds. It appreciates seaweed and extract of algae as it is a shore plant. Early, pre-cultivated, vigorous plants may be set out in their plots already in the same year, but another year in the nursery is needed very often with replanting in bigger pots. After setting the plants they must grow on for at least 2-3 years with yearly fertilization before they can be harvested for the first time. A well cared for asparagus strip yields crops for 15-25 years.
Sparris trivs med tomat, persilja och basilika.
SOWING:
Soak the seeds before sowing! Sow 1-2 cm deep in spring in a green house, indoors or in a hot bed! Keep the temperature at 18-20°C during germination, 15-30 days!
SPACING:
Keep 120-200 cm between the rows! The longer distance is for pale asparagus which must be banked up thoroughly. The roots of the plants are spread out in furrows, 20-25 cm deep, with 30-40 cm of mutual space. More soil is added gradually as the plants grow.
HARVEST:
The undeveloped, vitamin-rich shoots are used, pale or green. The pale ones are harvested with a long knife as soon as the shoots break the surface. The shoots are harvested at least twice a day during the height of the season in market gardens. Green asparagus (affected by frost) are allowed to grow 20-25 cm tall before they are broken off a day or two after they have broken the surface. Asparagus can be preserved and dried but should be eaten fresh preferably.
SEEDS:
About 40 seeds/g, and one portion yields about 30-40 good seedlings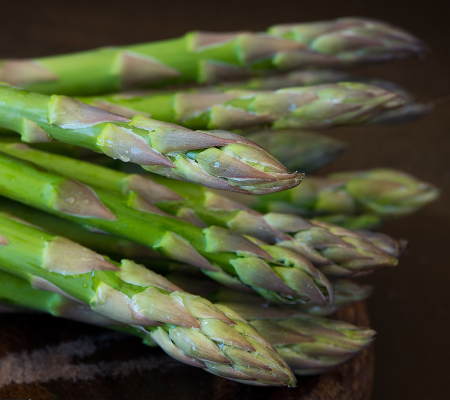 Argentuil, ekofrö
Eco
Is a well-known, reliable sort, which yields long, straight shoots of well gathered tops...
More info →
---