Winter Radish
Raphanus sativus (var. niger)
The Winter Radish is probably descended from the straggly plant, Raphanus raphanistrum, which was used for its spicy seeds in the Middle East. The first kind of Winter Radish to be grown to any extent more than 5000 years ago was the oil rich variety of Winter Radish (var. oleifera). The round and juicy Winter Radish we are used to, have been painted in ancient Egyptian tombs. These Winter Radish were black resembling our round black very much. The Winter Radish differs from the radish by a larger tuber which has a more distinctive taste and is not quite so liable to get spongy. A late crop of Winter Radish can be stored over the winter. The Winter Radish should be grown under the same conditions and needs as the radish.
SOWING:
Sow directly, 1-2 cm deep, in mid July for harvest later in the autumn. If sown earlier they will bloom and become woody. A really early sowing in spring might succeed.
SPACING:
Between the plants 10-15 cm and 35-50 cm between the rows.
HARVEST:
The Winter Radish isn"™t harmed by a few degrees of frost but it must thaw out completely before harvest. Do not wait for too long! The round Winter Radish shouldn"™t get larger than tennis balls and the oblong ones are ready when 4-5 cm in thick. Big roots crack and become spongy. Cut off the tops 1 cm or two above the root. Eat the Winter Radish raw in sandwiches, in salads, casseroles and preserves or soured. The Winter Radish is very nutritious like most other cabbage plants.
SEEDS:
90-130 seeds/1g, one portion sows about 7 m, about 20 g for 100 m.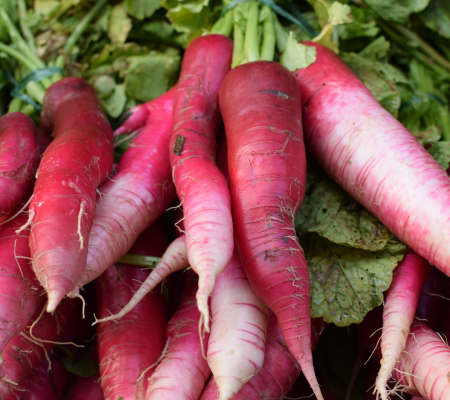 China Rose, ekofrö
Eco
Is a beautiful rose-red black radish of oblong (10-20 cm), blunt roots and crispy white...
More info →
---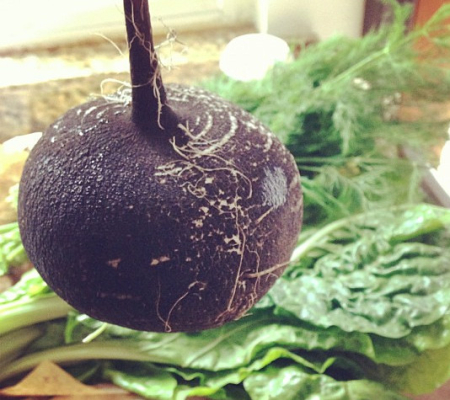 Black Spanish Round, ekofrö
Eco
Is a black radish for the winter of black peel and tender, white flesh with a marked...
More info →
---