Swede
Brassica napus
The turnip which is called "™swede"™ "" Swedish largely the world over is not really a Swedish root vegetable but it grows well here and was cultivated a lot in Sweden during the 1700s and 1800s as a nourishing food for both people and livestock.
It originates in Switzerland, where a far-sighted botanist, Gaspard Bauhin, made a series of crossings between Egg Turnip and other kinds of cabbage and managed to find the combination for the swede and that Northern Europe was the correct environment for the new root was soon apparent. However, some researchers maintain that the swede is a wild crossing or mutation originating in European Russia.
Now the swede has lost much of its status being pushed aside by other and "˜nicer"™ vegetables. The old turnip, Brassica rapa, is another species than the swede. The swede is very hardy and easily pleased and can be grown in most soils, where access to potassium, phosphorus and water is good. Fertilize with natural manure, compost or green manure but do not give too much. If you do, the tops could become enormous. Soft brown spots inside the root indicate a lack of boron. Read in the chapter on growing cabbage plants for further advice on co-planting, attacks, seeds etc.

SOWING: Sow about 1 cm deep directly as soon as the soil has warmed up a bit. If there is a great risk of attacks by the cabbage-fly, wait with the sowing until the latter half of June. The swarming time of the flies is then almost over and they have done their worst. Sow later as well if the roots are to be stored. The swede can be pre-cultivated in a hot-bed or indoors for an extra early harvest. Read the chapter on White Cabbage.

SPACING: Keep 15-20 cm between the plants and 40-50 cm between the rows.

HARVEST: Harvest the swedes during the whole summer from a size of a few cm in diameter and so on. Those roots which are intended for storage should be taken up in late autumn. Do, however, let them thaw out completely before harvest after frosty nights. Save a few cm of the tops and put the roots in sacks in a cool, damp place.

SEEDS: 300-500 seeds/g, one portion sows 10-15 m and 15-20 g for 100 m. 8 g yield about 1000 seedlings in pre-cultivation.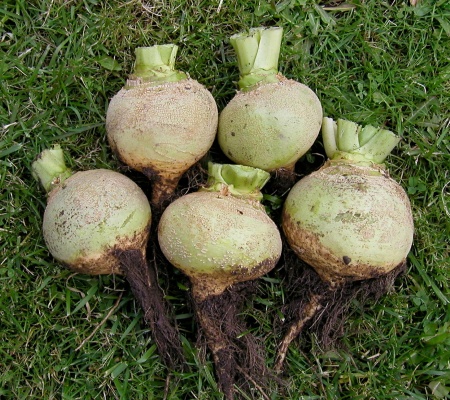 Krasnoselskaja, ekofrö
Eco
Is an old swede from Russia which we have grown selectively and multiplied since the...
More info →
---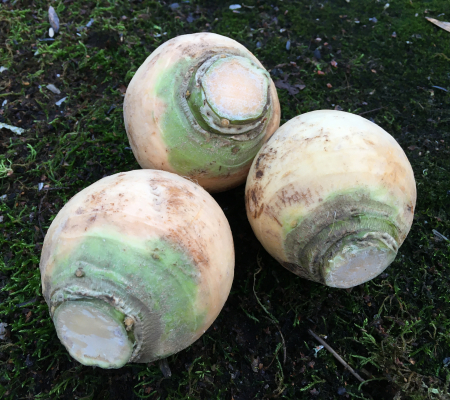 Wilhelmsburger, ekofrö.
Eco
Is an old retainer from Germany. It produces a very fine and smooth root with yellow...
More info →
---