Black Salsify
Scorzonera hispanica
The Black Salsify is perennial and belongs to the composite family. It grows wild in southern Europe and Caucasia and has been grown for a very long time. The root is very tender and tasty with black peel and white flesh. The soil should be deep, loose and well drained. In stony or stiff soils the roots divide easily. Fertilize in the same way as for parsnips, compost, natural manure or green fertilization. If extra potassium is needed for the black salsify, use rock flour and wood-ash. It is a good idea to grow black salsify banked up, in a border or raised deep-dug beds. Black Salsify loves the company of spinach and parsley and assists the carrot against the carrot-fly, but is itself rarely attacked by anything.
SOWING:
Black salsify is the first thing to be sown in spring, as soon as the frost in the ground has broken up and the soil has dried out a little. Sow 2 cm deep. B.S. needs a long season. Sowing in autumn usually succeeds as well and that is an extra early start.
SPACING:
10-15 cm between the plants and 40-50 cm between the rows.
HARVEST:
Dig up the roots carefully as late as possible in autumn. If covered with plant refuse, harvest can go on till they freeze firmly in the ground or let them remain until next year to grow a bit more. Wintered roots begin blooming later in summer. That makes the root harder and harder so do not delay harvesting. The leaves are edible as well. Store the black salsifies in moist sand or peat in an earth cellar. It is used in casseroles, soups and gratins etc. or eaten lightly poached with butter.
SEEDS:
70-90 seeds/g. One portion is enough for a stretch of several meters. About 30 g sows 100 m and 500 g (1lb.) sows 1000 m2 .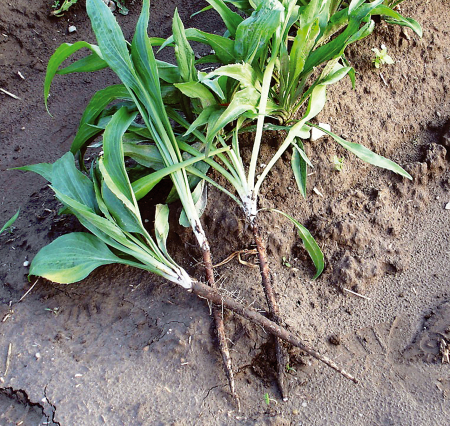 Hoffmanns schwartze Pfahl, ekofrö
Eco
(Hoffman's black pole) Has been chosen for its large, firm and crispy roots. It seldom...
More info →
---