Purslane
Portulaca oleracea sativa
Purslane is a neglected salad vegetable, belonging to the family Portulacaceae. The improved and cultivated sorts are much appreciated in China for example and India, Central- and South Europe and Mexico as well. The fleshy, crispy and juicy leaves and stems are used. They grow on a richly branched, tussock-like plant, thriving in full sunshine in soil with a moderate amount of nutrients in it. Purslane grows quite quickly to a height of 15-25 cm, is very nourishing with a fresh, a bit acid aroma. It contains, among others, antioxidants, great amounts of vitamins A and C (more than spinach for instance) and the fatty acid Omega 3.
SOWING:
Sow shallowly, successively after the soil has warmed up. Do not allow the sowing to become dry. Purslane can also be pre-grown indoors and planted outdoors when the risk of frost is over or remain indoors as a potted plant the year around.
SPACING:
Thin out to a mutual distance of 10-20 cm. They can grow very large sometimes.
HARVEST: Cut off whole shoots and leave some 5cm of the stem. It will bring forth new shoots and can be harvested many more times. Purslane is affected by frost and must be covered if you wish to prolong the harvest in autumn. Leaves and shoots are usually eaten raw in salads, but they are also good to poach or fry for a few seconds or with oil and vinegar.
SEEDS:
About 2400 seeds/g, one portion sows many meters, 5-10 g for 100 m.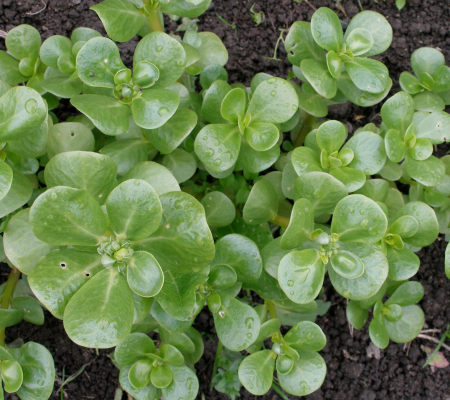 Grön Portulak, ekofrö
Eco
Is the common clear green variant with its shiny glossy leaves and its more upright way...
More info →
---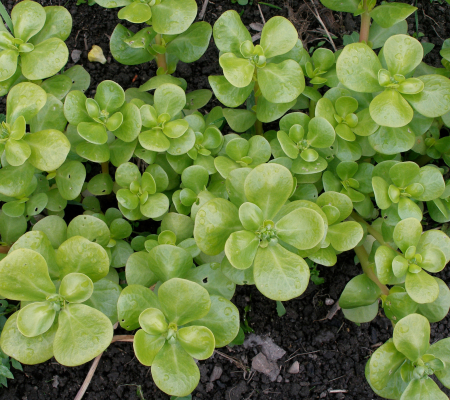 Gyllene Portulak, ekofrö
Eco
Has somewhat larger leaves than its green relative. It has a golden yellow tone of colour...
More info →
---