Sweet William
Dianthus barbatus
of the Carnation-family is bi-annual with origins in the Mediterranean and China. It is an old-fashioned plant thriving in sand-mixed, limy soil in sunny, warm situations and is also grown as an annual. It should then be sown very early indoors and set out in June. It easily self-sows. Keep a distance of 30 cm between the plants, 50 cm tall.
SOWING: Sow ½ cm deep outdoors or in hotbeds in May-June.

SEEDS: 1 g contains about 950 seeds.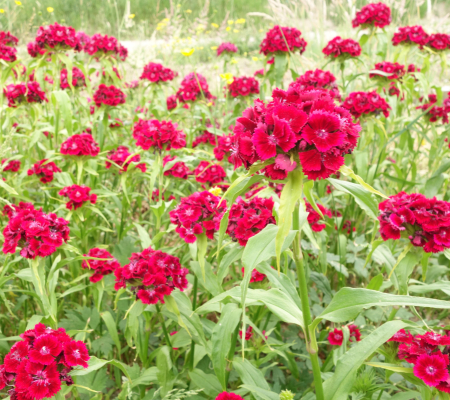 Mörkt Röd, ekofrö
Eco
A dark red variety of Sweet Wiliam. It is flowering a bit earlier than the mixed variety....
More info →
---
Borstnejlika, Bl. färger, ekofrö
Eco
Mixed shades of red, pink and white. One portion contains about 100 seeds.
More info →
---