White Cabbage
Brassica oleracea var. capitata
No one knows for sure where and when the first white cabbage saw the light of day. We know that it was common among the Romans. Julius Caesar himself was the one who brought both the red and the white head cabbages along with him on his ravaging tours of North-Western Europe. It was spread quickly and at the end of the 1500s at least 15 sorts hade been named.
White cabbage was a most important food especially for the poor population. The chance to improve it and keep it as sauerkraut has saved lots of people from deficiency diseases and starvation. It is probable that sauerkraut arrived first in Eastern Europe with Genghis Khan. Since ancient times the people in Asia used the souring and preserving methods to keep many different vegetables. It is said that the Great Wall of China was built with the aid of sauerkraut and that is probably not exaggerated.
Head cabbage is grouped by its growing-time in summer-, autumn- and winter cabbage, but there are no clear limits. Sorts, which are thought to be autumn cabbage in southern Sweden can be used as winter cabbage further north. White cabbage can be grown in the whole country, just choose the appropriate sort. White cabbage can be grown in both lighter and heavier soils of good drainage. When growing in sandy soil one should water and tread down the soil and cover with organic materials to make it firmer and damper in character. If head cabbage is grown in open soil one should be very careful when hoeing weeds. White cabbage has some shallow roots which are damaged if one hoes too deeply.
White cabbages need lots of water and nutrients, especially potassium and nitrogen but also trace elements like boron and manganese and thus appreciate natural manure, well compounded compost, algomin and rock-flour keeping qualities. Lack of potassium also causes loose heads. The risks for attacks by vermin and fungi diminish a lot if the cabbage is grown in an airy, open space. Read the chapter on growing cabbage plants for further advice on growing, co-planting and pest control.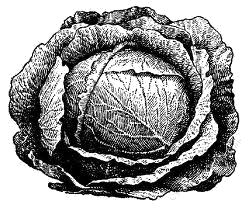 SOWING:
Sow thinly indoors or in a hotbed, about 1cm deep, 4-6 weeks before setting out the plants as planned! The seeds want warmth when germinating, preferably just above 20°C. After sprouting they should be in a light, cool and airy place to avoid lankiness and attacks by root-neck rot but not lower than 14°C for any length of time. Low temperature increases the risk of bolters a lot. Temper the plants gradually before setting them, when the risk of frost is just about over. Most kinds of cabbage can handle a night of light frost. Set out the seedlings a little deeper and tread down the soil preventing the cabbage flies laying their eggs. Many early sorts can be sown directly as soon as the soil has warmed up. Do not allow the sowing to dry out and look out for the flea-beetles.
SPACING:
Keep a mutual distance of 5 cm when growing seedlings. 35-60 cm between the plants and 50-70 cm between the rows. The shorter distance is for less vigorously growing sorts and the longer ones for the vigorous autumn- and winter-sorts. A too dense planting easily yields small and under-developed heads and a too wide one large, loose heads with bad keeping qualities.
HARVEST:
Summer and winter cabbages should be harvested successively. If they are allowed to remain in the plot for too long they soon crack. The ripening can be delayed by gripping the plant firmly and turning it one quarter turn or by cutting off some of the roots with a spade when the head is just about ready for harvest. The winter cabbage should be harvested relatively late. They can take several degrees of frost but must thaw out completely before harvest. Normally, the head is cut off with a sharp knife together with a few leaves for protection. Wrapping the heads in newspapers prolongs storage time by avoiding the direct contact of the heads with each other and another way is to dig up the whole plants with their roots and clean them and trim off some of the leaves and hang them in a cellar roots up. Treat the heads of cabbage carefully! A really small bump can cause attacks by fungi later on during storage and diminish their keeping qualities. Keep the white cabbages in a cool place (close to 0°C) with high humidity but still as airy as possible.
SEEDS:
250-350 seeds/about 1g, one portion yields 50-100 good seedlings in pre-cultivation and about 8 g for 1000 seedlings which is also enough when scattering the seeds in a hotbed of at least 1 m2. 4 g sows 100 m directly.